Anna Genger
Blog, ArtTwo: Interviewtext by Iris Haist
21, April 2018
"Pussypirates" by Anna Genger - The slightly different series of portraits
An artist who quickly fascinated me with her work - and with her person, which is inevitably connected with her - is Anna Genger (* 1978 in Hamburg). She is funky, honest and passionate. And it is precisely these attributes that apply to their artworks. The range of her projects is wide and ranges from drawings and collages to paintings and sculptural objects.
In this article I would like to introduce you to her portraits series Pussypirates from the year 2013. Those who feel spontaneously attacked in their moral purity, may like to devote to another activity, although a closer look at the related works will turn out to be worthwhile.
The title of the series is based on a novel by the feminist activist and author Kathy Acker (1947-1997) from the United States. Pussy, King of the Pirates, appeared in the year of her death and is about freebooters who find both freedom and self-knowledge in search of a treasure. The sexual liberation of the woman and her chance to lead a self-determined life are the main concerns of the author.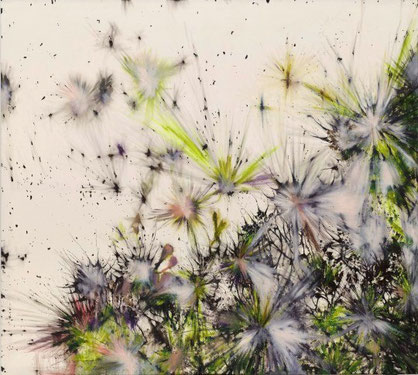 Anna Genger uses both the term and the mindset of Acker to unite nine completely different women. The special feature of her portraits, however, is not so much the title of the series, but its artistic implementation: The "portraits" do not show the faces of women, nothing else of their appearance, but the character and the internal struggles they fight - every woman individually for herself and within the series as a community. It illustrates the biographies of women, including a nun formerly an actress, a fanatical nationalist, and a gender studies student who decided to pursue a career as a porn actress.
For this she applied both graphic and painterly methods. She also chose finer or rougher pre-treatment methods for the image carriers, varying color scales and compositions. If Genger seemed necessary or helpful, she drew on the style of other artists in history, as portrayed in the portrait of Aya, for example. on Robert Delaunay.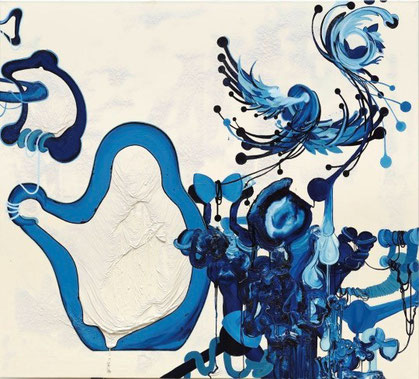 Anna Genger, April, acrylic and oil paint on canvas
If one follows this approach consistently, completely different pictures must necessarily arise. And that was exactly the challenge for the artist: to stand behind her message, to stand behind all the women she admires for her strength and to whom she sympathizes because of her sometimes heavy blows of fate.
In each portrait, Genger gets completely new and uninhibited about what makes the "portrayed" particularly interesting in her opinion. All in all, the artist's main concern is to show one thing unmistakably: her devotion to the free and self-determined woman - including herself.